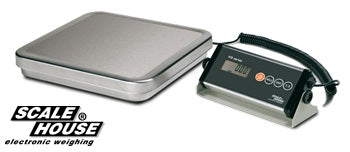 Collection Available
All equipment can be collected in person from our HQ
Click here to view our Specification PDF
LCD display with 6 digits 15mm high,
Mechanical waterproof simplified keypad with 4 keys.
Plate and structure in stainless steel; 330x320mm size plate.
Indicator in anodised aluminium with bracket for fixing to the wall and extendable cable.
Power supply: 6 extractable batteries of the 1,5V AA type (not included) or 230 Vac / 9Vdc - 100mA mains power adapter included.
RS232/C port for connection to PC.
Packaging: 445x346x70mm size - approximate weight of 4,5kg.
Master Pack: dimensions 2x(445x346x70)mm - approximate weight of 2x(4,5kg).
Upon request: ACCREDIA calibration with issuing of relative certificate.
hold (freezing the weight on the display);
homepage.onboarding.product_text
homepage.onboarding.product_text
homepage.onboarding.product_text
Product title
Vendor
€19,99 | €24,99
Product title
Vendor
€19,99 | €24,99
Product title
Vendor
€19,99 | €24,99
Product title
Vendor
€19,99 | €24,99