Save
5%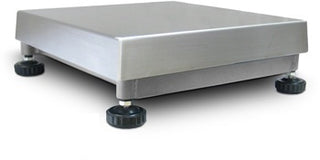 As one of the biggest retailers of multifunctional bench scales in Ireland, you can trust our products and support. We have a wide range of scales here, to suit all users and requirements.

Why you should invest in a counting scale
These scales can be used to greatly improve weighing accuracy. They are very versatile and made from quality parts, so you are sure to find something that can help free up time for your business.
Find a multifunctional bench scale that fits your needs
Consider the platform size and length as well as the capacity, to ensure you find a scales bench to suit your operation. With so many applications for this type of scale, it's important to think about the solutions you require.
FAQs
What is a bench scale?
This product is a smaller scale that is used on a tabletop when weighing. They are easy to operate and can be used in almost any setting.
What are bench scales used for?
These items have a huge variety of applications. They are commonly used in food preparation, for checkweighing, counting, in shops and veterinary clinics, and many more.
Are bench scales portable?
Yes, these systems tend to be portable, so long as they are wireless. A portable scale allows for maximum productivity and enables your business to provide its services almost anywhere.
What features should you look for in a bench scale?
Look for platforms made from durable and high-quality materials such as stainless steel or powder-coated steel. You might also wish to consider waterproof parts, depending on the industry you are in.
Many offer an LCD display and a keypad for ease of use. Battery operation, sometimes through a rechargeable battery is another useful feature so you aren't tied to the location of power outlets.
Finally, consider the maximum weight capacity and information readability to ensure the scale can accurately weigh the necessary objects.