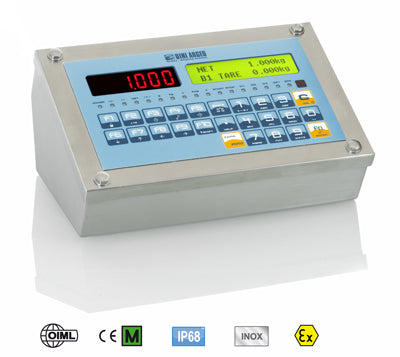 Collection Available
All equipment can be collected in person from our HQ
Click here to view a specification PDF
25-key alphanumerical waterproof keyboard.
Highly efficient red LED display with 6 digits 15mm high.
Backlit LCD graphic 25x100mm display.
Synoptic bar graph with 16 bright LEDs showing the active functions.
Easy to clean STAINLESS STEEL waterproof IP68enclosure; resistant to harsh and corrosive environments.
Dimensions: 264x115x174 mm.
Suitable for use on the table, column, or wall.
Real time clock and permanent data storage.
Fitted with alibi memory, integrated on the motherboard.
Functions available with DINITOOLS utility
- Configuration, calibration, data entry and print formatting.
- Recording and filing of all the information on PC.
- Complete retrieval of the saved data for quick replacement.
- Instrument calibration with numeric values.
Selection of the programme language directly in the set-up.
24-bit A/D converter, 4 channels, up to 200 conv./sec. and up to 8 signal linearisation points.
Up to 10.000e OIML or 3 x 3000e @ 0,3 µV/d CE-M legal for trade.
Up to 1.000.000 displayable divisions for internal factory use, with internal resolution up to 3.000.000 points.
110-240 Vac power supply.
Management of up to 4 independent scales (up to 2 for the AF03 version).
Connectable with up to 16 analogue 350-Ohm (or 45 1000-Ohm) load cells.
Connectable to printers and labellers with the command drivers.
| | |
| --- | --- |
| |  MAIN CERTIFICATIONS |
EC Type Approval (EN45501)





































Two RS232 serial ports, for connection to printer (in safety zone), PC or PLC.




One RS232/RS485 serial port, for connection to printer (in safety zone), PC or PLC.




4 optoisolated outputs (16 in the IO versions).




2 optoisolated inputs (8 in the IO versions).




Profibus interface to install in safety zone (available upon request for E-AF01 and E-BATCH1 versions).




Analogue output with D/A converter at 16 bit, 0-10Vdc, 0-20mA, 4-20mA (available upon request for the IO versions).










 
homepage.onboarding.product_text
homepage.onboarding.product_text
homepage.onboarding.product_text
Product title
Vendor
€19,99 | €24,99
Product title
Vendor
€19,99 | €24,99
Product title
Vendor
€19,99 | €24,99
Product title
Vendor
€19,99 | €24,99