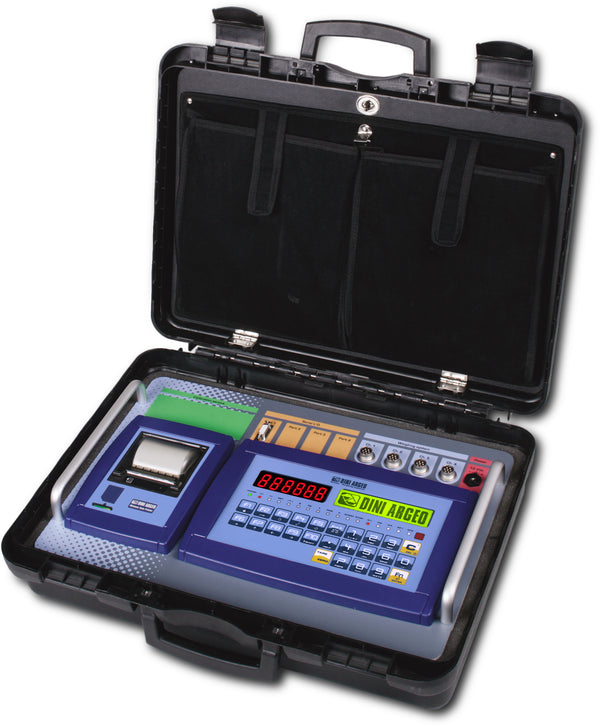 Collection Available
All equipment can be collected in person from our HQ
Click here to view our specification PDF
ABS transport case, with housing for the indicator and space for extra accessories.
3590EXP series indicator fit in a metallic rack type involucre with dimensions of 270x440mm, complete of housing for optional printer, connectors for platforms, and serial output on 9-pole connector.
Dimensions: 325x460x170 mm. Weight: about 5 kg.
25-key alphanumerical waterproof keyboard.
Highly efficient red led display with 6 digits 15mm high.
Backlit LCD graphic 25x100mm display.
Synoptic bar graph with 16 bright LEDs showing the active functions.
Permanent time/date and data storage.
Fitted with alibi memory.
Functions available with the DINITOOLS utility:
- Configuration, calibration, data entry and print formatting.
- Recording and filing of all the information on PC, complete with the calibration data of each instrument.
- Complete retrieval of the data saved for quick substitution.
- Instrument calibration with numeric values.
Selection of the programme language directly in the set-up.
24-bit A/D converter, 4 channels, up to 3200 conv./sec. and up to 8 signal linearisation points.
Up to 10.000e OIML or 3 x 3000e @ 0,3 µV/d CE-M legal for trade.
Up to 1.000.000 displayable divisions for internal factory use, with internal resolution up to 3.000.000 points.
Fitted with 4 connectors for connection up to 4 platforms with AF08 software (up to 2 with AF03, 1 with AF09).
Connectable with up to 16 analogue 350-Ohm (or 45 1000-Ohm) load cells.
Connectable with the main digital load cells available on the market.
Built-in rechargeable battery (10-hour minimum operating time) with fitted external 12 Vdc / 230 Vac adapter.
All versions are fitted with attached thermal printer.
| | |
| --- | --- |
| |  MAIN CERTIFICATIONS |
EC Type Approval (EN45501)
| | |
| --- | --- |
| |  CUSTOMISED APPLICATIONS |
Thanks to our integrated development, you can create complete customised applications in autonomy:




wizards, operator messages
serial port management, protocols customization
digital I/O full management
sequential or simultaneous automations
data entry, custom archives
Available on panel:
- One RS232 serial ports, for connection to PC, on 9-pole connector.


Available on internal side:
- Two RS232 serial ports, for connection to printer, PC or PLC, radio module, and optional interfaces.
- One RS232 serial port (optional RS485), for connection to repeater, remote scale, badge reader or digital load cells.
- Fitted keyboard emulation input, for barcode/badge readers or external PC keyboard.
- 4 optoisolated outputs (optional).
- 2 optoisolated inputs (optional).
homepage.onboarding.product_text
homepage.onboarding.product_text
Product title
Vendor
€19,99 | €24,99
Product title
Vendor
€19,99 | €24,99
Product title
Vendor
€19,99 | €24,99
Product title
Vendor
€19,99 | €24,99