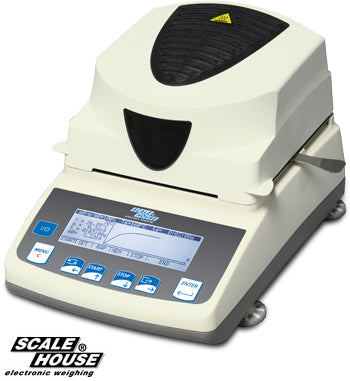 Collection Available
All equipment can be collected in person from our HQ
Click here to view a specification PDF
Graphic LCD display and waterproof membrane keypad.
Selection of the programme language in the set-up.
Diameter of the weighing plate: 90mm.
Drying temperature: up to 160°C.
Heating time (100°C): approximate time of 3 min.
Power supply: 230 Vac power adapter.
PS2 input for connecting external PC keyboard.
RS232/c port for connection to PC or printer.
USB port for connection to PC.
Operating Temperature Range: from +18°C to +33°C.
Upon request:
- set of sample plates; 
- ACCREDIA calibration with issuing of the relative certificate.
| | |
| --- | --- |
| |  FUNCTIONS |
Drying modes: end when reaching the established time, automatic end.
Calculation methods: % of dry weight, % of humidity in relation to initial weight or to dry weight.
Memory for up to 10 customized programs (mode, temperature, time, calculation method).
Calculation and printing of the statistical evaluations.
Displays the drying graphs.
Entering free texts and computing the report through external PC keyboard.
homepage.onboarding.product_text
homepage.onboarding.product_text
homepage.onboarding.product_text
Product title
Vendor
€19,99 | €24,99
Product title
Vendor
€19,99 | €24,99
Product title
Vendor
€19,99 | €24,99
Product title
Vendor
€19,99 | €24,99