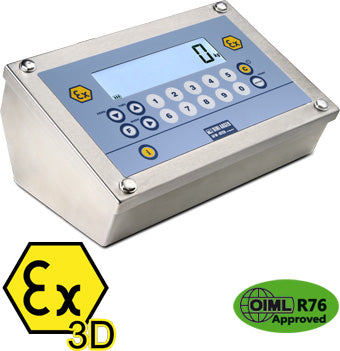 Collection Available
All equipment can be collected in person from our HQ
MAIN CERTIFICATIONS

EC Type Approval (EN45501)

OIML R76


I/O SECTION

RS232/C port configurable for connection to printer/labeller in safe zone.

RS232/C (or optionally RS485) bi-directional port configurable for PC, PLC, additional remote display, in safe zone.

FUNCTIONS

KEYBOARD:
Zeroing, Automatic tare, Presettable tare, printing and/or data transmission, selectable function command, on/off switching, database of 10 tares, 2 Numeric IDs, keyboard lock, repetition of last printout made.

SELECTABLE FUNCTIONS:
- High Resolution Weighing x 10.
- Net/Gross or lb/kg conversion.
- Accumulation.
- Formula weighing.
- +/- Checkweighing.
- Percentage weighing.
- Approved transmission of the weight to PC/PLC (with Alibi memory ALMEM option).
- Counting(Max. resolution of 1.500.000 divisions).
- In/Out Truck weighing.
- Hold.
- Set Point Control (with DFIO option).

homepage.onboarding.product_text
homepage.onboarding.product_text
Product title
Vendor
€19,99 | €24,99
Product title
Vendor
€19,99 | €24,99
Product title
Vendor
€19,99 | €24,99
Product title
Vendor
€19,99 | €24,99