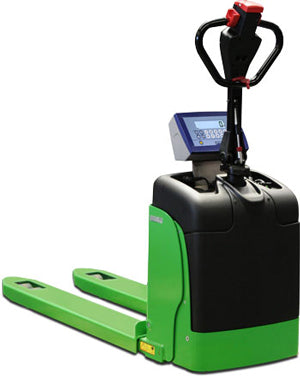 Collection Available
All equipment can be collected in person from our HQ
Click here to view our Specification PDF
Our top of the line pallet truck from ELWL is extremely versatile and can support a variety of different industrial and commercial applications. Our Pallet truck not only has the ability to transfer heavy pallets across the workplace floor but also has the addition of an electric scale built into the computer system on the front. It has the ability to operate for over 40 hours before losing battery and can be managed easily from the digital keypad.
Once the pallet truck has lifted its intended unit it will calibrate quickly and the electric scale will provide an extremely accurate reading.
Product Specification
Maximum lifting capacity: 1200 kg.
4 shear-beam IP67 load cells and connections.
Weight indicator with a 17-key, waterproof, numerical-functional keyboard; backlit 25mm LCD display with 6 high contrast digits and with icons for showing the active functions.
Easy to clean

waterproof ABS IP65

case resistant to harsh and corrosive environments.
Digital calibration and set-up configurable from a keypad.
Power supply through the built-in rechargeable battery (charge time of eight hours). Battery level indication.
The operating time is of about 40 hours; programmable energy-saving functions.
Configurable RS232 / C bidirectional port for connection to the printer
Configurable RS232 / C bidirectional port for PC, modem radio or portable terminal.
Why Choose Gravitation
Here at Gravitation we sell a huge variety of different electrical scales that suit almost every purpose and industry. We are aware this would be a costly but important purchase however we can assure you this electric scale pallet lift is priced incredibly competitively. Please don't hesitate in giving our experienced team a call who are on hand to help you with any questions you might have about our pallet lift and electric scale.
homepage.onboarding.product_text
homepage.onboarding.product_text
homepage.onboarding.product_text
Product title
Vendor
€19,99 | €24,99
Product title
Vendor
€19,99 | €24,99
Product title
Vendor
€19,99 | €24,99
Product title
Vendor
€19,99 | €24,99