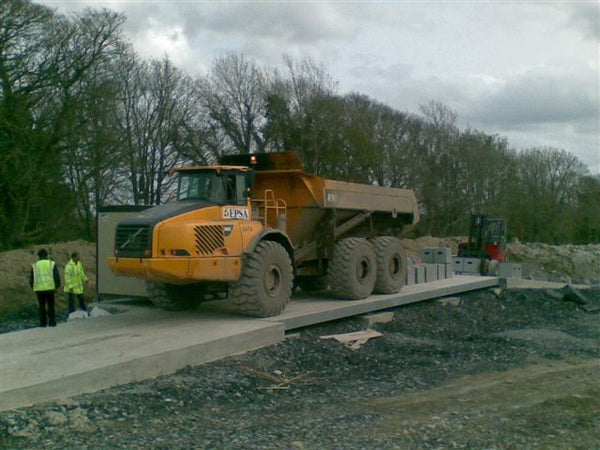 Collection Available
All equipment can be collected in person from our HQ
Click here to view our Specification PDF
QUICK OVERVIEW
Steel-Concrete Composite weighbridge for the Ultimate in Accuracy & Durability
Fabricated in Ireland by Gravitation
Modular design simplifies transport, installation & relocation
Wide range of standard & custom sizes & dimensions available
Modular new generation weighbridges, suitable for installation above ground or pit-mounted.
| | |
| --- | --- |
| |  MAIN FEATURES |
Steel-Concrete Composite Deck Structure
Sturdy load surface in very thick antislip sheet steel, which guarantees extreme rigidity with every type of vehicles.
Anticorrosive treatments and high-resistance painting.
Stainless Steel Rocker column load cells with up to C6 Accuracy, Surge protection as standard, superior anti-rotation and rodent proof cabling
Inspection trapdoors for cells maintenance.
Reduced height (approx 300 mm from the resting surface).
IP68 junction box, complete with 30m connection cable to the indicator.
Wide range of available weight indicators and accessories.
homepage.onboarding.product_text
homepage.onboarding.product_text
homepage.onboarding.product_text
Product title
Vendor
€19,99 | €24,99
Product title
Vendor
€19,99 | €24,99
Product title
Vendor
€19,99 | €24,99
Product title
Vendor
€19,99 | €24,99