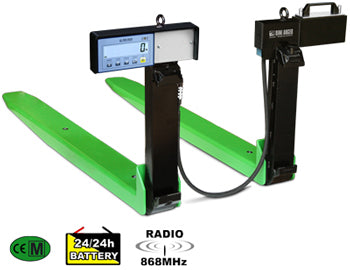 Collection Available
All equipment can be collected in person from our HQ
Click here to view a specification PDF
Weight indicator with waterproof keyboard, 5 keys, and protective case in extra thick steel, mounted on a fork and connected to the other fork by means of a cable.
LCD backlit display with 6 digits 25mm high, easily visible in any lighting condition.
Steel bearing IP65 structure.
Each fork weighs 75kg (LTF25) and 90kg (LTF50).
Functions with 4 shear-beam IP68 load cells.
Accuracy: +/- 0.2% of the capacity.
Max. allowable overload: 200% of the nominal capacity.
Max. horizontal inclination (flexibility): +/- 2° with the same accuracy characteristics.
Power supply through rechargeable battery, the operating time is of about 40 hours of continuous use.
Additional battery pack (optional) to use the system 24/7.
Fitted with battery charger, compatible with LTFBK option.
Auto switch-off function.
Fitted with infrared remote control.
Optional radio module for transmitting data to a PC or a remote repeater.
| | |
| --- | --- |
| |  KEYBOARD FUNCTIONS |
Zeroing, semi automatic tare, presettable tare, function mode, stand-by
NOTES: functions available also with infrared remote control.
High Resolution Weighing x 10
Net/Gross or lb/kg conversion
Alibi memory, for weight approved transmission(optional)
homepage.onboarding.product_text
homepage.onboarding.product_text
homepage.onboarding.product_text
Product title
Vendor
€19,99 | €24,99
Product title
Vendor
€19,99 | €24,99
Product title
Vendor
€19,99 | €24,99
Product title
Vendor
€19,99 | €24,99