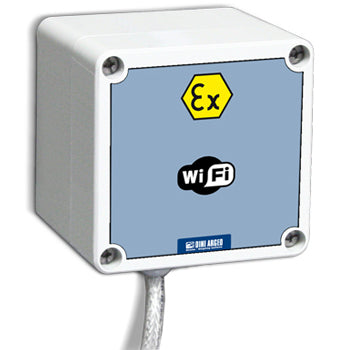 Collection Available
All equipment can be collected in person from our HQ
Click here to view a specification PDF
Dimensions case (lxwxh): 122x120x65mm.
Fitted with 3m shielded cable, for connection to the indicator.
Power supply directly from the indicator.
| | |
| --- | --- |
| |  Operating features |
Range:
- external: 70 m
- internal: 30 m. This distance can change depending on where it is used: greater the hostility of the environment and less is the reachable distance.
Data Rate: up to 11 Mbps with automatic fallback.
Protocols and functioning modes: those foreseen by the IEEE 802.11b, including WEP (criyptography).
Operating temperature: -20°C +85°C.
homepage.onboarding.product_text
homepage.onboarding.product_text
homepage.onboarding.product_text
Product title
Vendor
€19,99 | €24,99
Product title
Vendor
€19,99 | €24,99
Product title
Vendor
€19,99 | €24,99
Product title
Vendor
€19,99 | €24,99