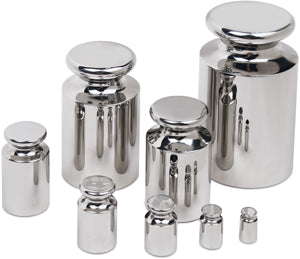 Collection Available
All equipment can be collected in person from our HQ
STAINLESS STEEL weights suitable for use in legal metrology and industrial applications.

The M1 precision class allows for the use of these weights for the check and calibration of scales and instruments in class III up to 10000e.



In compliance with the OIML - r111 recommendation;

M1 precision class;

in austenitic polished stainless steel;

ACCREDIA (EA) calibration certificate supplied as standard (available without certs on special request);
supplied with single case made of plastic or aluminium (the case is compulsory for certified weights).
N.B. Due to shipping costs, a minimum order qty of €150 applies to single test weights, otherwise a €30 supplement applies.
homepage.onboarding.product_text
homepage.onboarding.product_text
homepage.onboarding.product_text
Product title
Vendor
€19,99 | €24,99
Product title
Vendor
€19,99 | €24,99
Product title
Vendor
€19,99 | €24,99
Product title
Vendor
€19,99 | €24,99