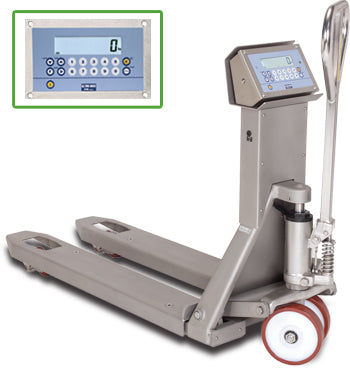 Collection Available
All equipment can be collected in person from our HQ
Click here to view our Specification PDF
Maximum lifting capacity: 2000 kg.
Accuracy: +/- 0.1% of the maximum capacity in the versions for internal use.
Accuracy: +/- 0.05% of the maximum capacity in the "M" approved versions.
Fork dimensions 1182 x 550 x 80 mm.
Bearing structure entirely in extra thick STAINLESS steel.
Lifting pump in STAINLESS steel.
Vulkollan steering wheels and double loading rollers.
4 IP68 stainless steel shear beam load cells.
Weight indicator with waterproof IP68 STAINLESS STEEL case, easy to clean and resistant to harsh and corrosive environments; large 25mm high contrast LCD display, clearly visible also in poor lighting conditions, and membrane waterproof keypad, with 17 numerical/functional keys.
Calibration and Set-Up configurable from keyboard or from PC with DINITOOLS.
Power supply through built-in rechargeable battery.
50-hour approximate operating time or one month with the typical non continuous use, thanks to its auto switch-off function.
Programmable auto power saving function.
Equipped with 230Vac 50 Hz battery charger (recharging time is about 8 hours).
Bi-directional RS232/C port for connection to printer.
Bi-directional RS232/C port for PC, radio modem, or portable terminal.
IR input for managing the remote control
| | |
| --- | --- |
| |  MAIN FUNCTIONS |
Zeroing, Tare, Printing, numeric IDs
High Resolution Weighing x 10
Net/Gross or lb/kg conversion
Counting (Max. resolution of 1.500.000 divisions)
Set Point Control (with optional interface)
 AVAILABLE UPON PRICE ESTIMATE
Special fork length from 850 to 1500 mm.
Special capacity e/o divisions.
homepage.onboarding.product_text
homepage.onboarding.product_text
homepage.onboarding.product_text
Product title
Vendor
€19,99 | €24,99
Product title
Vendor
€19,99 | €24,99
Product title
Vendor
€19,99 | €24,99
Product title
Vendor
€19,99 | €24,99