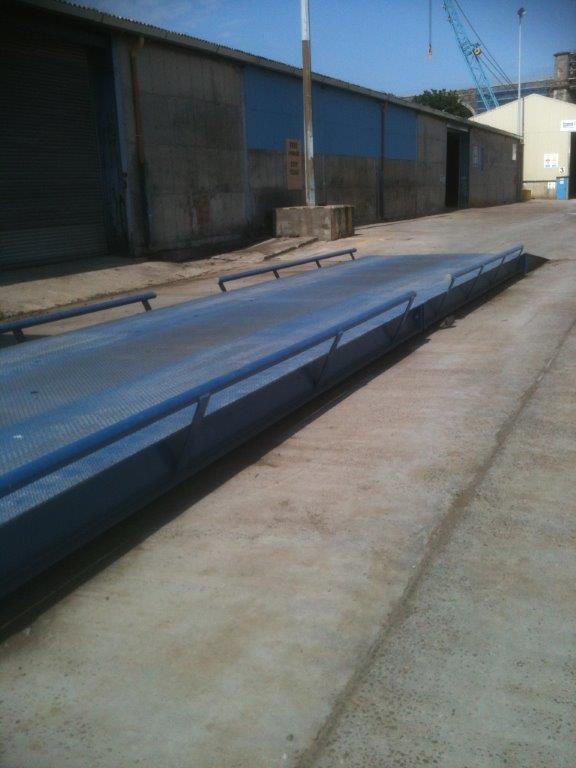 Collection Available
All equipment can be collected in person from our HQ
Click here to view our Specification PDF
Technical Description
Structure
All load bearing members are heavy duty universal
beams that run in the same direction as the traffic flow
to ensure the weights are directly on the beams for the
full length of the weighbridge.
Surface plate is 10mm durbar, with all seams on the
surface fully welded for additional strength and to
prevent ingress of water or product spillage to the sub
structure. Access to the load cells and for debris
removal is through removable 750mm plate sections at
each end and the middle on multi-module machines.
Due to the high strength of the structure, there is only
6mm of deflection in the centre of each module under
a 3 axle 25 tonne load. Low deflection means less
fatigue to the structure and a longer life.
Finish
Structure is fabricated from a high grade blasted
material. After fabrication the structure is primed and
two coats of gloss finish applied.
Load cells
Platform structure has push in sockets for Mettron
lighting protection system. The load cells fit into
lighting protection system with mounting cup to suit
load cell. No nuts or bolts are required in the mounting
system. Steel conduits are fitted for wiring
homepage.onboarding.product_text
homepage.onboarding.product_text
homepage.onboarding.product_text
Product title
Vendor
€19,99 | €24,99
Product title
Vendor
€19,99 | €24,99
Product title
Vendor
€19,99 | €24,99
Product title
Vendor
€19,99 | €24,99