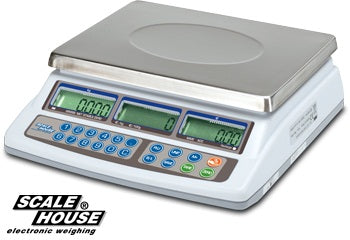 Collection Available
All equipment can be collected in person from our HQ
Click here to view our Specification PDF

3 backlit LCD displays on operator side and 3 LCD displays on customer side, with 6 digits 20mm high, for simultaneous indication of weight, price and amount.
Membrane waterproof numeric and functional keypad with 20 keys and acoustic feedback.
Stainless steel 230x300mm plate.
Level and adjustable feet.
Built-in rechargeable battery (about 70h battery life) and 230 Vac power adapter.
RS232/C port for connection to printer.
Packaging: 410x375x180mm size - approximate weight of 5,1kg.
Master Pack: 2 x (410x375x180)mm size - 2 x approximate weight of 5,1kg.
Upon request:
- ACCREDIA calibration with issuing of relative certificate;
- 3000e + 3000e dual range CE-M approval.


| | |
| --- | --- |
| |  FUNCTIONS |

price computing:
- change of unit price: €/kg - €/100g;
- entry of unit price;
- amount totalisation (with optional printer);
- calculation of the change;
- 10 PLU memories;
homepage.onboarding.product_text
homepage.onboarding.product_text
homepage.onboarding.product_text
Product title
Vendor
€19,99 | €24,99
Product title
Vendor
€19,99 | €24,99
Product title
Vendor
€19,99 | €24,99
Product title
Vendor
€19,99 | €24,99