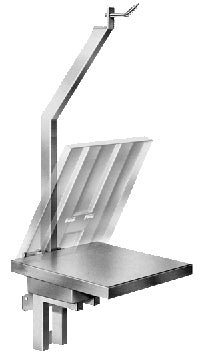 Collection Available
All equipment can be collected in person from our HQ
Click here to view our Specification PDF
Functions with a stainless steel, single point, approved load cell made according to OIML R60 standards, with protection against dust and moisture according to IP66 standards (350 Ohm input resistance).
Bearing structure which may be fixed to the wall fitted with a quarter-weighing hook.
Folding stainless steel loading surface, fitted with a fall-prevention safety piston.
Up to 15 Vdc power supply.
Shielded 3m long 6-pin cable with connectors for connection to the weight indicator.
| | |
| --- | --- |
| |  OPTIONS TO BE SPECIFIED WHEN ORDERING |
Connection to the indicator and calibration with CE-M 3000e single range or 3000e+3000e dual range approval (depending on the indicators used).
Models with special sizes and capacities (ask for estimate).
homepage.onboarding.product_text
homepage.onboarding.product_text
homepage.onboarding.product_text
Product title
Vendor
€19,99 | €24,99
Product title
Vendor
€19,99 | €24,99
Product title
Vendor
€19,99 | €24,99
Product title
Vendor
€19,99 | €24,99